In this blog post, we give you an overview of everything you need to know when you consider starting using an online whiteboard for your work.
If you already are using an online whiteboard, I am sure you will find some useful tips and tricks.
Why should you consider start using an online whiteboard? Because an online whiteboard helps you to facilitate your team activities when working online. It helps you
To improve collaborative processes when working remotely.
Teams can work on a shared board and visualize everything they do in real-time.
To boost the efficiency of online meeting and ad hoc collaboration session.
They enable you to do a workshop completely digital and remotely.
To foster the creativity of your teams when working digitally.
There are many more reasons online whiteboard are a booster for your team collaboration.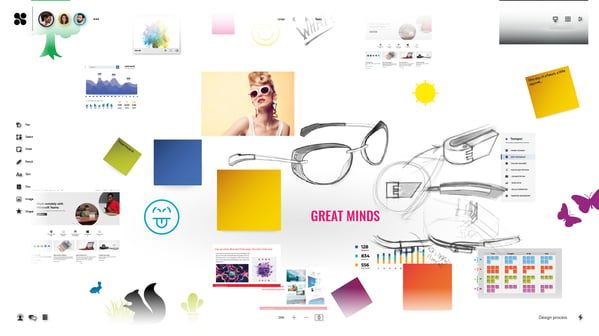 What is the idea behind an online whiteboard?
The idea of an online whiteboard is to provide teams with a whiteboard on which they can work digital, from everywhere when they are online.
The purpose of a whiteboard is to visualize thoughts, concepts, write down ideas, explain and teach, to plan and create in the group and many other things.
Online whiteboards can be used for the same purpose as a real whiteboard, but without the limitations of a real whiteboard. The latter is limited by space, the number of things which you can add (have you ever tried to put a video on a real whiteboard?) and is only available to the people which are in the same room.
Online whiteboards are software solutions that come along as apps or browser-based tools. They support teams to collaborate visually over distance in real-time.
Each participant of a meeting logs in to the same online whiteboard space and can add his content, while all the others see what he is doing in real-time and they can interact if needed with all the content.
Using real whiteboards to collaborate in video conferences is doable, but should not be the way of working together in the 21st century. Online whiteboards allow teams to move their collaborative activities to the next level and increase their productivity and creativity.
Online whiteboards are indeed the addition to video conferences, that takes them from pure communication to real collaborative sessions.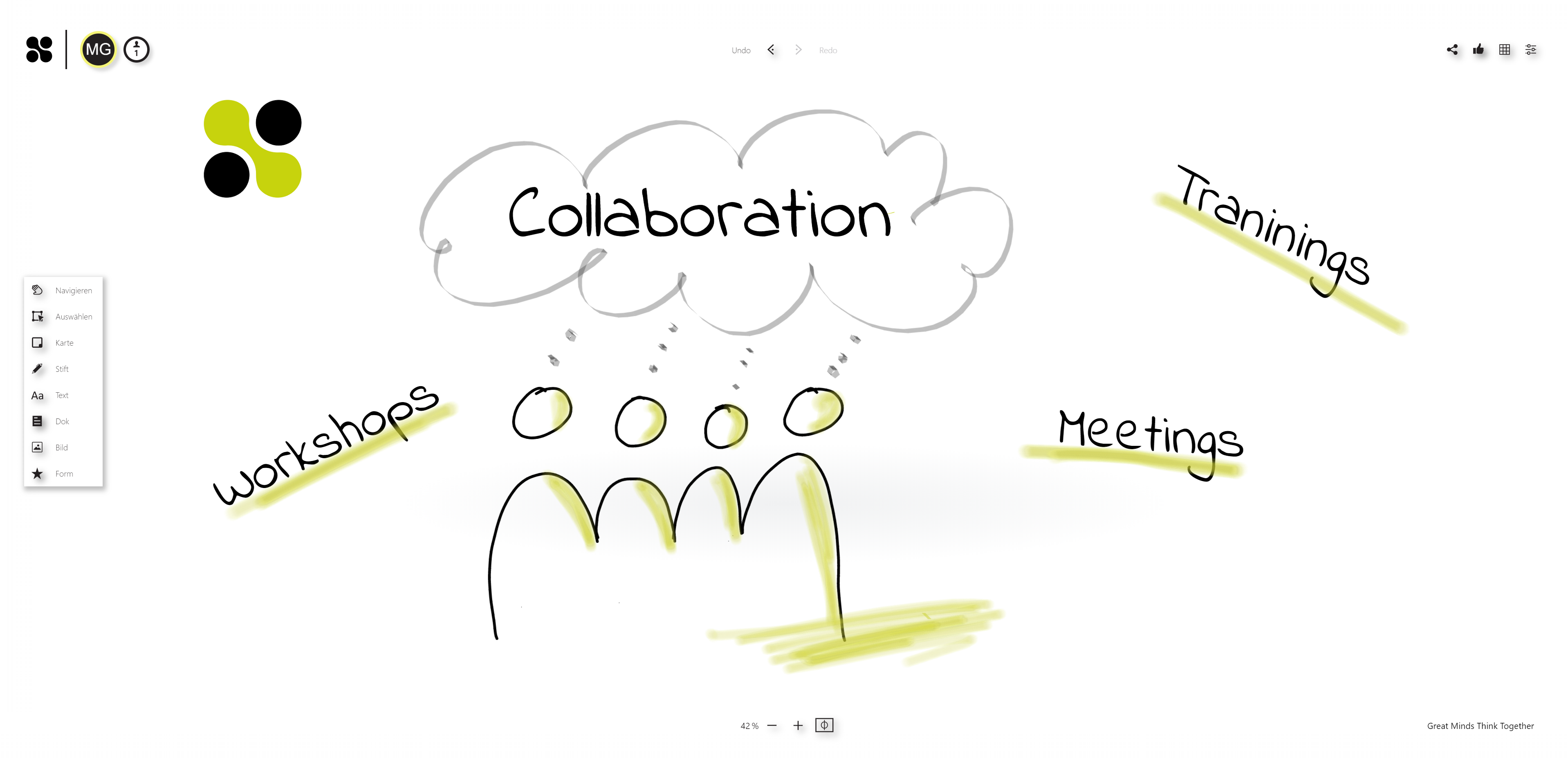 What does an online whiteboard need to help teams collaborate remotely?
To get the full power of an online whiteboard, it should have at least these features:
Infinite or huge canvas (this is the actual digital whiteboard)
Support sketching, drawing and handwriting with a digital pen
Sticky notes and workshops cards in various shapes and colors
Multimedia content like images, videos and audio recordings
Upload documents like PDF and other office documents
Connectors to create mind-maps, concept-maps and design workflows
Shapes, text and other tools to design content on the board
Voting and rating of ideas
Integrations with audio-and video conferencing solutions like Microsoft Teams, Google Hangouts, Webex, Zoom etc.
Access rights management capabilities to restrict actions on the board of individual members if needed
With all these features online whiteboards allow you to do many different things, and the usage scenarios are endless and differ from departments and industries.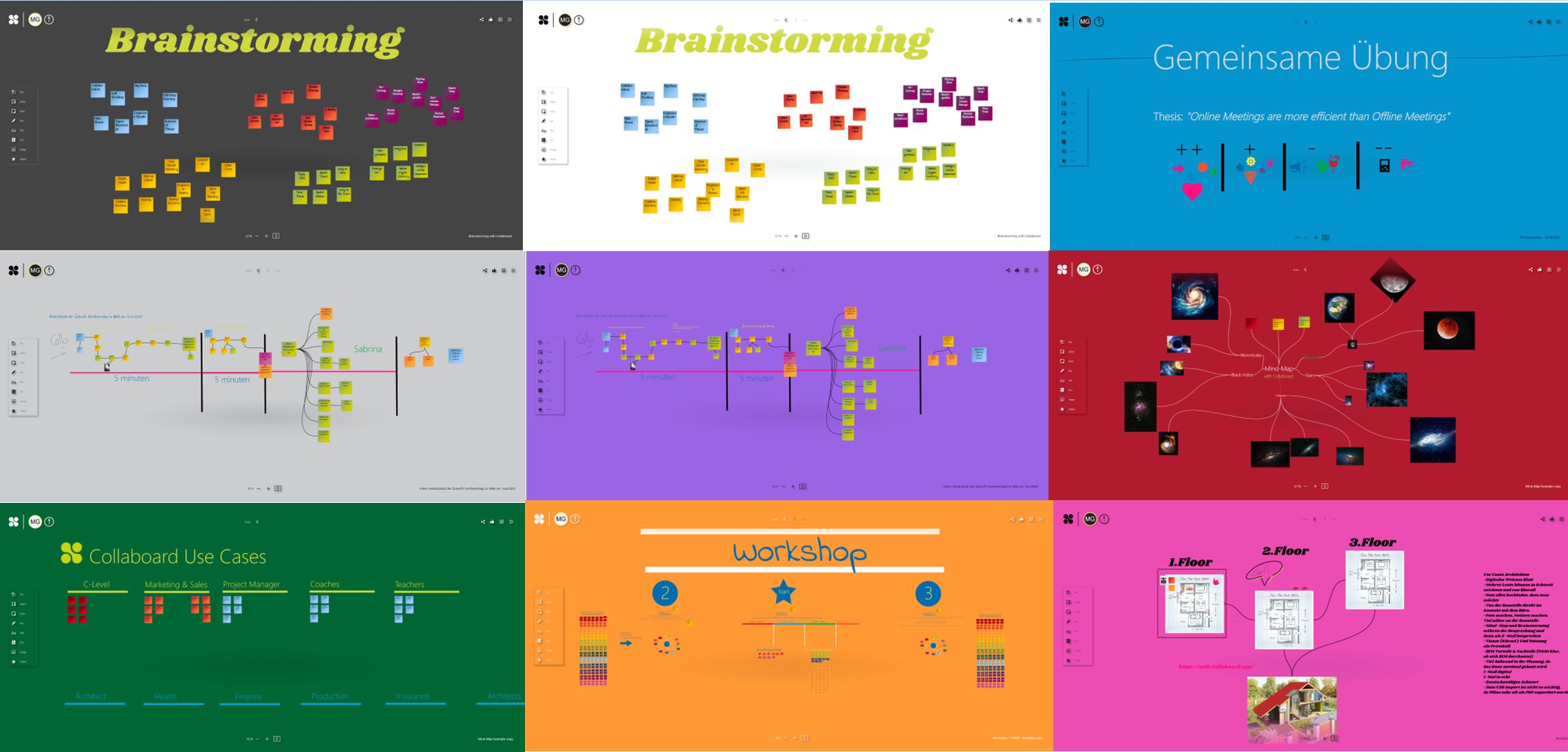 Things to consider when working with an online whiteboard?
When you decided to start using an online whiteboard in your daily work, you need to consider several things. Most important be aware that you are introducing a new way of working digitally to your team, and every team has a learning curve until it can use an online whiteboard to its full potential.
Do I need an online whiteboard with or without registration?
If you choose an online whiteboard without registrations, you have the advantage that it is swift to start with and you can share it without any difficulties. But there are several disadvantages:
Low security as unregistered users can access your whiteboard.
Usually, you need to export your content to an image or PDF and can't continue working on it in the whiteboard itself.
If you choose an online whiteboard with user registration, you might need a little bit more time to set everything up and create your account, but you get several advantages
Save the whiteboards you create in your account.
You have higher security, as others also need to be registered to access your whiteboard.
You can continue working on your whiteboard without problems.
How to share an online whiteboard?
Usually, you share an online whiteboard by inviting others to your whiteboard to collaborate. Widespread approaches are to invite people by email or send them an access link.
If you have a lot of people in the same room, for example, when you are doing an on-site workshop entirely with digital tools, then a QR code can help to provide access to the board. In this way, people can scan with their device the QR code to get access to the project.
Tip: When you create an electronic invite to your meeting, add the link to the whiteboard directly in the invite. So you do not lose time when you start the session to bring the people on your whiteboard.
How to deal with multiple users in an online whiteboard?
When working on an analogue whiteboard, it is often the challenge to motivate people to something on the whiteboard, and most of the time due to space limitations it is complicated that more than two or three people work at the same time.
On an online whiteboard, this is entirely different. Usually, people are not that exposed when they are doing something, so social control is less strict, and people tend to experiment more on an online whiteboard than on an offline one.
Also consider that space, where they can work on, is big enough, that many people can create content at the same time. The challenge is here to prevent people from creating chaos on the board.
Tip: If you want that your team does not create big chaos on your board, start with some board rules before beginning the meeting and create visual sections in which they are allowed to do things.
Another way to deal with multiple users on your board is to add and remove permission frequently, dependent on what they need to do.
Do I need to buy hardware that supports digital pens to start using an online whiteboard?
Most of the online whiteboard solutions work very well with just mouse and keyboard, and for a lot of use cases, people do not need to draw, sketch or handwrite with a pen. Sometimes it is even better if people add content with the keyboard and do not write with the hand.
When you need to visualize thoughts during meetings, it is very beneficial if people can use a digital pen to sketch their idea. Also, if you work on designs, flyers, texts pen help you to annotate, highlight and add comments in a more natural way.
How to use an online whiteboard on interactive whiteboard hardware?
Most of the interactive whiteboard hardware allows you to download apps or start a web browser. Usually, you can use your online whiteboard on devices like these.
Dependent on the hardware you are using you will have a different user experience when working with your online whiteboard. The better the touch and ink technology and the more performant the PC that is powering the interactive display, the better your user experience will be.
How to draw on an online whiteboard?
Drawing on an online whiteboard needs some exercise. Usually dependent on the hardware you are using, there are some significant differences. If you are used to working with Apple's iPad or Microsoft Surface Devices, you will see that drawing on the online whiteboard feels very natural, as the digital pen technology of these devices is excellent.
If you are using hardware that is not optimized for pen usage but offers one, you will see that there are several challenges when drawing or handwriting. Sometimes you feel a lag, or the pen is not as precise as you expected.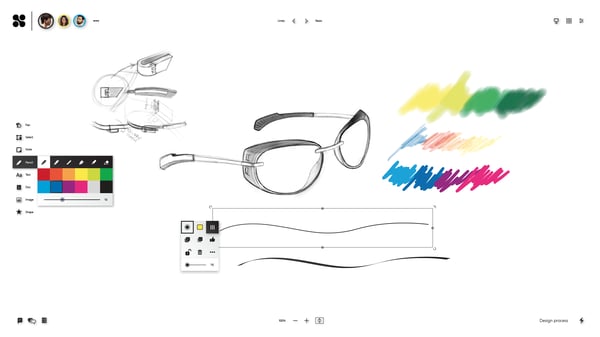 Where to host an online whiteboard solution?
Where you host your online whiteboard differs on your use case. If you are looking for an easy to use and for everybody accessible solutions, you should go for cloud-based hosting. Most of the online whiteboards are cloud-based solutions, and you consume them as Software-as-a-Service.
If you need to control access, data and everything else related with the online whiteboard because of security reasons you can choose to host the online whiteboard by yourself and decide if you want to host it in your cloud infrastructure or on-premise.
Tip: Collaboard is an online whiteboard which you can host, in a public cloud, in your cloud or on-premise.
How to export an online whiteboard?
Sometimes you need to share what you created in your online whiteboard with others by email sending them an export of your whiteboard.
Most of the online whiteboard solutions offer an export feature. But be aware if you created a huge whiteboard exporting everything can be quite a challenge. Sometimes it makes sense just to export a selected area of the whiteboard and not the entire thing.
Do I still need a video conference tool when I have an online whiteboard?
Most of the online whiteboards work perfectly along with audio- and videoconference solutions like Microsoft Teams, Zoom, Google Hangout etc. Some online whiteboard tools offer integrated audio-and video conferencing.
When you are already used to using an existing solution it can be easier to continue using this solution (which is optimized for this use case) and focus in the online whiteboard only on the whiteboard features. In the end, it is up to you to choose the best communication channel when working on an online whiteboard.
Use Cases for online whiteboards
There is an endless number of use cases when you start working with an online whiteboard, and there are no boundaries for your creativity. How you use your online whiteboard depends really on you and your team.
Nevertheless, we want to give you some ideas on how other teams are using the online whiteboard and what they are doing with it.
Collaborate in online meetings
Online Whiteboards are perfect if you want to implement collaborative processes in your online meeting. With the online whiteboard, you can move away from just sharing content by sharing your screen and start interactive sessions with your whole team. You can use an online whiteboard for your meetings in several ways:
Prepare the meeting agenda
Create a meeting flow
Take meeting notes in a collaborative way
Write down ideas during the meeting and vote electronically to find the best idea in a fast way
Use a timer for every agenda point
and many more.
See in this video how to create a meeting agenda with an online whiteboard in a new style
Digital Workshops
With the online whiteboard, you can completely digitize your workshops and held them remotely if needed. If you want to work with posters, cards, theses, questions and other workshop elements, the online whiteboard allows you to transform what you have done in an anlogue workshop to the digital world.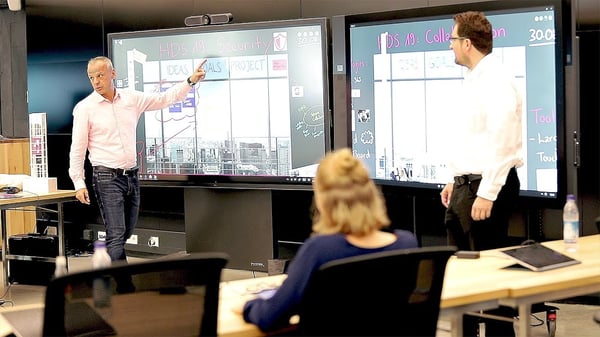 Presentations
Presenting on a whiteboard is different than performing a PowerPoint presentation. On the whiteboard, you are freer to visualize what you want to show. It is not a replacement; it is a whole new way.
Brainstorming
Creating ideas in a group with cards is very easy if all the people are in the same room. If you need to be creative over distance, then it is more complicated. Adding your ideas on cards in an online whiteboard is a very nice solution to be creative in a team with dispersed team members.
Learn more about how to be creative with an online whiteboard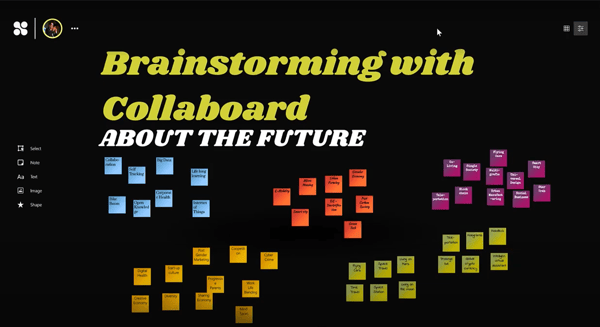 Mind-Maps
Mind-Maps are a well-known technique to create, manage and visualize different ideas. The advantage when doing a Mind-Map in an online whiteboard is that you can use all the whiteboard features besides the mind-map as well and your mind-maps are not only limited to text. Combine all the content on the whiteboard to a multimedia mind-map with no limitations.
See in this video how to create a mind-map with Collaboard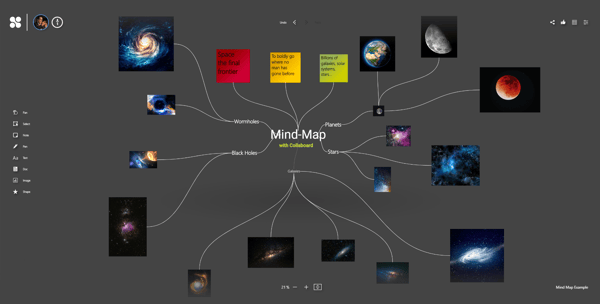 Planning
If you plan your next marketing event or want to implement a more agile way of working, the online whiteboard supports many different planning activities and techniques.
Learn more about how to use an online whiteboard for your planning activities.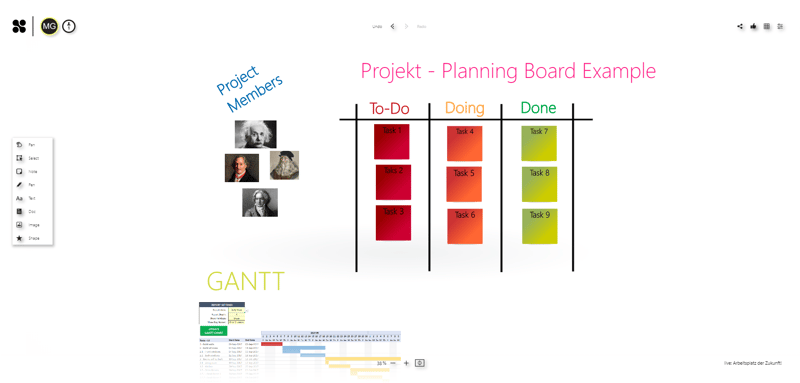 Decision Making
To make the right decisions, it is crucial to have all the information needed. On an online whiteboard, you can visualize every aspect relevant for your decision and access it in seconds. You can also implement decision-making frameworks.
Teaching
There are several ways how to use an online whiteboard to teach. An online whiteboard allows you to improve distance learning and remote teaching. The online whiteboard can replace your physical board and provide your students with a digital classroom.
Learn more about how to use an online whiteboard for your online lessons