A positive change in virtual meeting culture
ARRI, a global player in the film industry, was looking for an equivalent to a real whiteboard for their virtual meetings. During the evaluation phase, user tests were successful and the interaction with Collaboard was very positive. Steffen Scheid, Project Manager Global IT, led the evaluation and implementation of Collaboard as the online whiteboard software at ARRI. Here he speaks about his experience.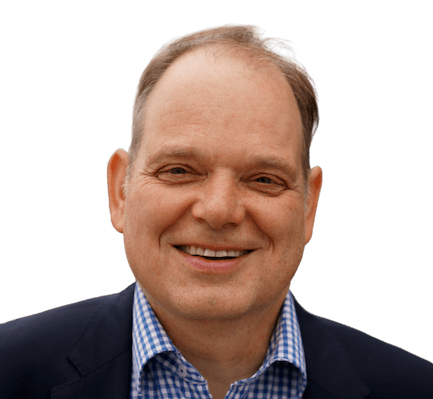 Steffen Scheid
"Collaboard has been very well received as a new tool. We achieved the goal of making our meetings more creative, interactive, and effective. We immediately received feedback that the use of the board had positively changed the character of our virtual meetings."
Project Manager Global IT at ARRI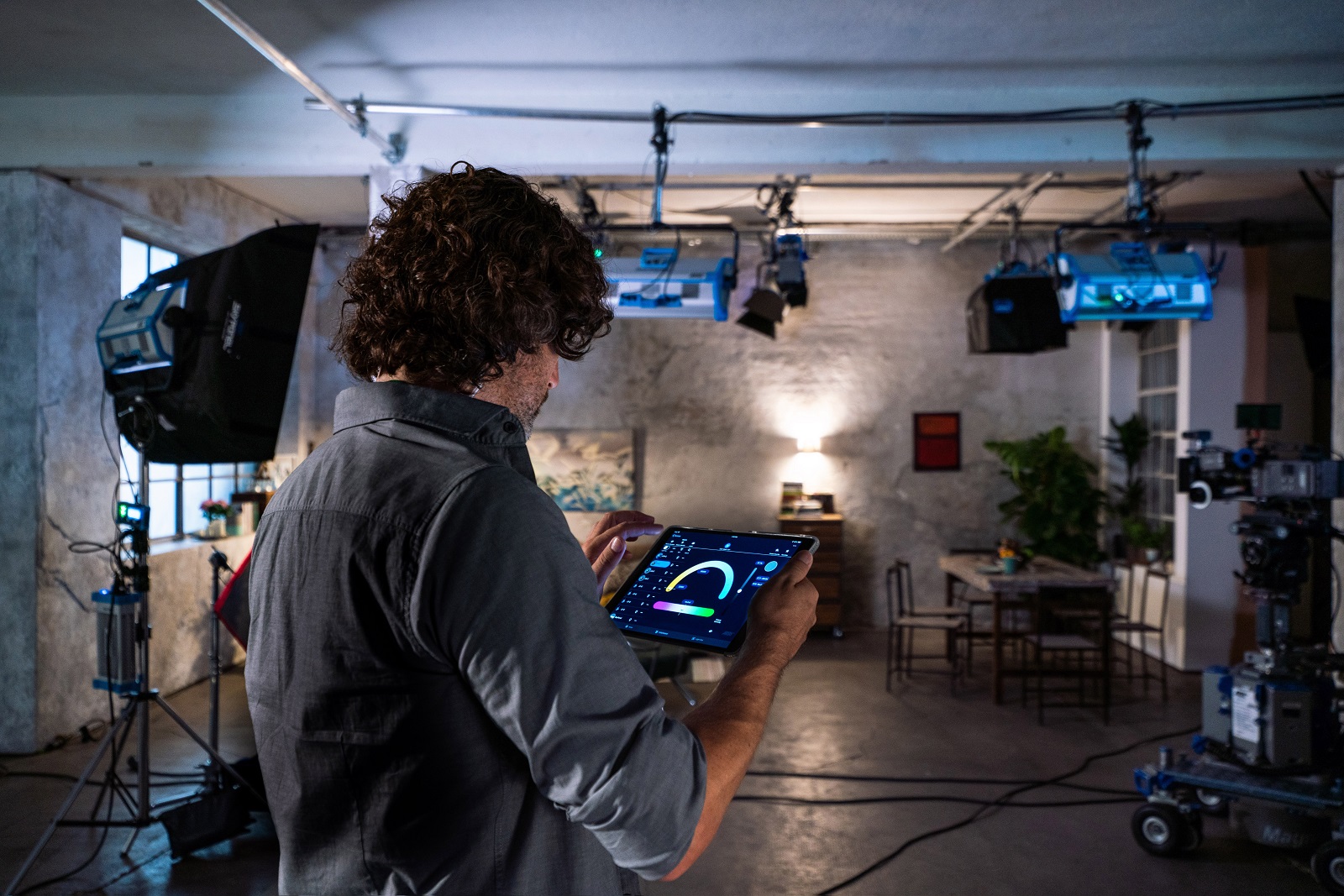 From image and sound to interactivity

Thank you, Mr. Scheid for taking the time to share your experience with Collaboard as an online whiteboard solution.

What tools did you use for virtual collaboration before Collaboard?
In March 2020, like many other global companies, we were confronted with the reality that we had to work completely virtually from one moment to the next. We had introduced Microsoft 365 shortly before and, with it, Microsoft Teams.
Why did you feel that using online whiteboards would help facilitate your virtual collaboration?
As an international company, we have always worked together via video conferencing, but we were also accustomed to meeting "in person." This was something that had to be put on hold.

We have regular events, like global management meetings, where we would always meet in conference room settings. Similar scenarios are also necessary for product management, development, and marketing meetings. These gatherings now had to take place virtually, from one day to the next, and that's when we realized we had a deficit.

Video conferencing worked with images and sound, but it lacked interactivity and creativity. You can collaborate via MS 365 with PowerPoint or Word already, but it doesn't replace the creative process that happens in the conference room. We needed an equivalent to a real whiteboard to assist in spontaneous collaboration, such as in research and development, to quickly visualize and organize issues and ideas.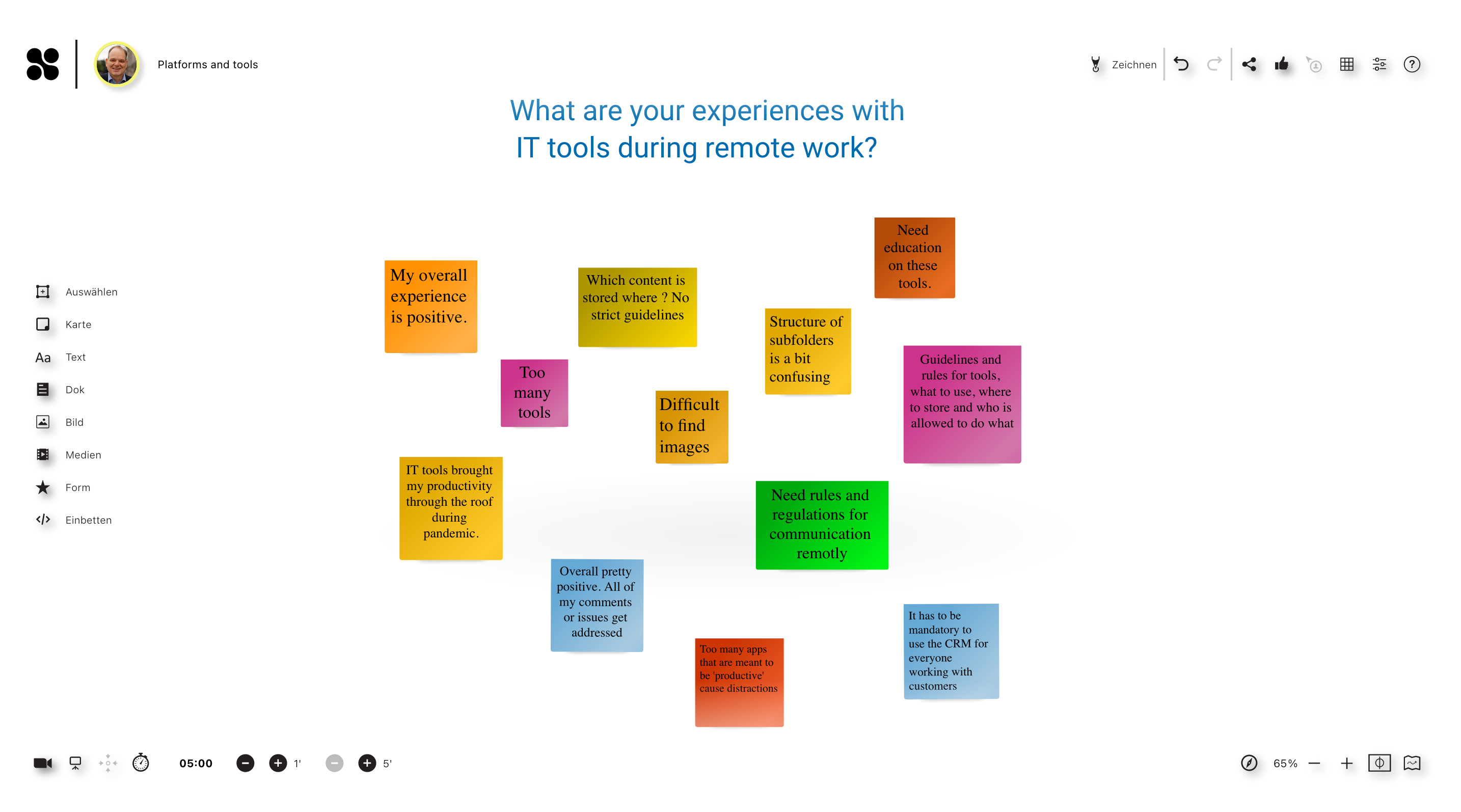 Data protection, support, intuitiveness, and MS Teams integration as top criteria for selection
How did you manage the evaluation and selection process for an online whiteboard software? What steps did you follow?

We gathered requirements, clustered them, and screened the market. We found that the feature sets of the different vendors were more or less the same. The four most important criteria for us were data protection, support, intuitiveness, and integration with MS Teams. We quickly landed on European vendors, made contact, and thoroughly tested Collaboard and a competitor with a trial license. After our exchange with Collaboard, we quickly came to an agreement.
What were the decisive criteria in choosing Collaboard?
For us, it was important to have a European provider for data protection and support reasons. We liked that Collaboard belongs to a medium-sized company, IBV, from Switzerland.

We had direct contact with the company and appreciated their quick and very competent response. Also, the negotiation process about possible features and bugs was very fast and professional, and above all very conclusive. Price-wise was no significant difference between Collaboard and the competitions. In the end, for us, it was the collaboration with Collaboard that convinced us.

Challenges and feedback

What challenges did you face during the implementation phase?

The board itself is quite intuitive to use. Meeting participants should allow about fifteen minutes briefing before they can use the board for the first time. To use the board efficiently as a facilitator, it takes a few hours of training, and then you can try out the features yourself.

There were no issues with the log-in either; we were able to identify ourselves via SSO using our Microsoft 365 account - it was "quick and easy." Overall, the access is very low-threshold, so there were no major challenges.
How have your employees accepted the new tool?
Collaboard has been very well received as a new tool. We achieved the goal of making our meetings more creative, interactive, and effective. We immediately received feedback that the use of the board has positively changed the character of our virtual meetings. Of course, there are always a few skeptics, but the vast majority see the enrichment a virtual whiteboard brings.
Usage and greatest benefits

Where specifically is Collaboard being used at ARRI today?

We use the board in global meetings, such as global management meetings at the executive level and departmental meetings. In international workshops with participants from Europe, the US, China, and the East Asia Pacific region, the collaboration in Collaboard also works exceptionally well. In addition, we use the board in project work to visualize roadmaps, customer journeys, and for brainstorming in individual departments.
What is perceived as the most significant user benefit?
Especially for workshops, like a requirements workshop on software with process visualization, the shared collaborative process (e.g., adding a map, text, or image) makes it much more efficient and effective than in a pure video meeting.
The facilitator tools are also very helpful for presenters; I am a big fan of the quick links as well as the voting feature.

Additionally, my observation is that, especially in large meetings with 20+ participants, a virtual whiteboard is almost more efficient than a real one. With digital, I no longer have a media break as a presenter. I can more easily evaluate the whiteboard afterward, analyze it, create follow-ups and even develop the content further after the meeting.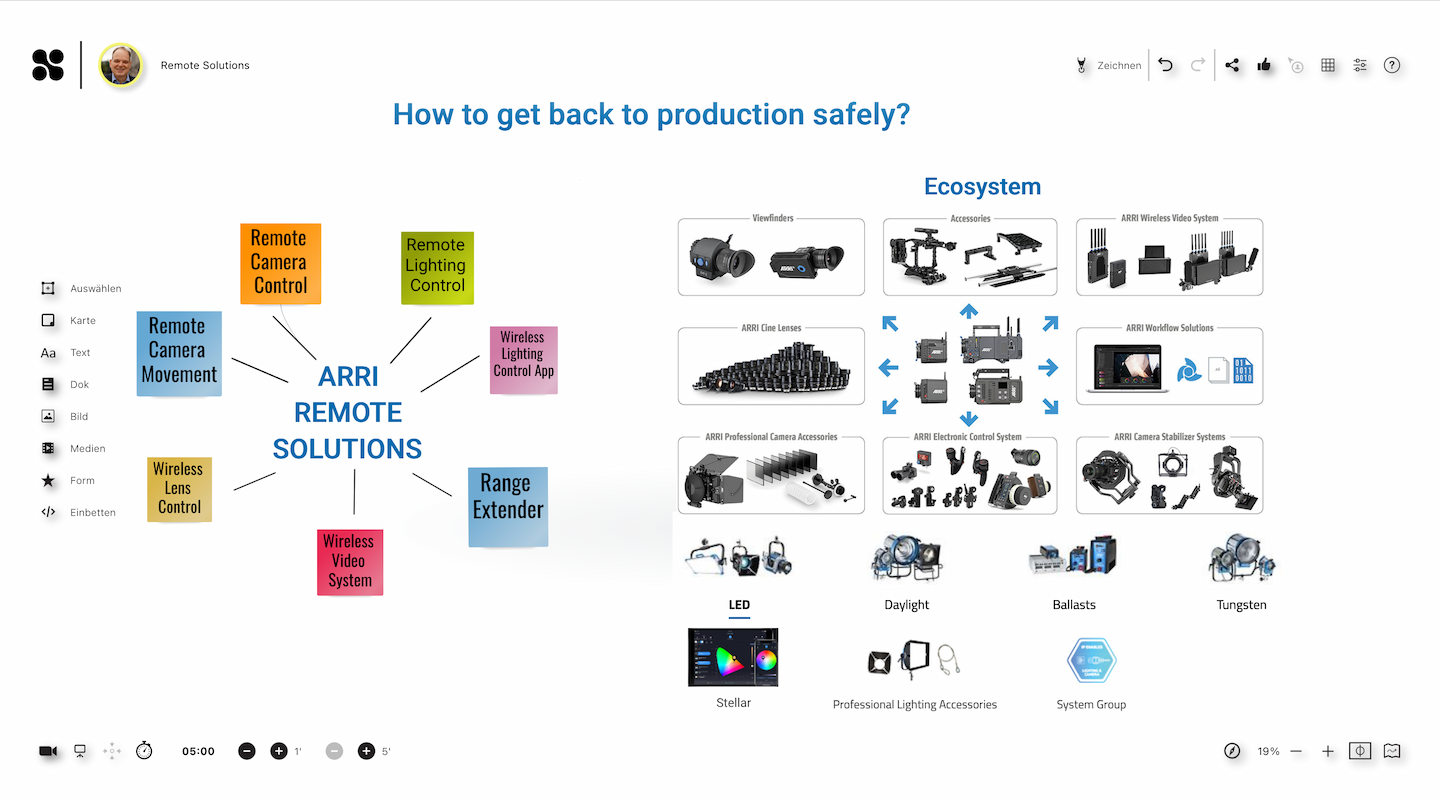 Added value and recommendation

You led the selection and implementation process at ARRI. What added value did Collaboard bring to ARRI?

The key point is that it has changed our meeting culture. With the tool, our online meetings have become more interactive and creative and also more effective.
What "take-away" would you like to share with other, potential Collaboard customers who are also looking at implementing an online whiteboard solution?
For me, it is important that the user remains the central focus during the entire process: You need a user story and the core requirements. I also recommend doing test labs where you allow the potential users the opportunity to evaluate the software and check the usability. I would definitely use the Collaboard offer with the test license.
How would you describe the collaboration with Collaboard?
It is positive. Even beyond the evaluation phase, we have been well looked after. We are informed about new features via social media and can participate in free webinars.
There is a public roadmap that is binding and where the most popular requests are implemented.
It is a very open and pleasant collaboration.
ARRI
"Inspiring images. Since 1917." ARRI is a global player within the motion picture industry, employing around 1,200 staff worldwide. Named after its founders August Arnold and Robert Richter, ARRI was established in Munich, Germany, where the headquarters is still located today. Other subsidiaries are in Europe, North and South America, Asia, and Australia.
The ARRI Group consists of the business units Camera Systems, Lighting, and Rental, all dedicated to connecting creativity and future technologies for moving images. ARRI is a leading designer and manufacturer of camera and lighting systems as well as system solutions for the film, broadcast, and media industries, with a worldwide distribution and service network. The portfolio includes digital cameras, lenses, camera accessories, archive technologies, lamp heads, and lighting accessories. Along with offering exclusive technologies, ARRI Rental's first-class services and equipment provide camera, lighting, and grip packages to professional productions around the world.
The Academy of Motion Picture Arts and Sciences has recognized ARRI's engineers and their contributions to the industry with 19 Scientific and Technical Awards.

You can find more information at www.arri.com.