In the past, we had different tools that we could have used to create digital mind maps. Anyway, it wasn't so simple and easy to use them, because they were very slow and not very intuitive.

But today, things have changed! Thanks to Collaboard, today you can simply pick a pen and create a digital mind map on the preferred device. In fact, our online whiteboard is compatible with many kinds of screens; this feature will give you the sensation to write on paper but with an audience ready to interact with you.

Digital mind map allow you and your team to work together even if apart. Every colleague can express his opinion about the project you're working on, contribute with new ideas and make new changes in real time.
Digital mind map and remote working in 2020
These first months of the year have taught us a lot. Because of recent events, almost every company in the world has been faced with the challenge of remote working. As everybody knows, remote working involves to-do schedulation, attention and of course, some valid tools to make the work easier to do. Our biggest challenge during this moment is to adapt to the new work environments and start using the technologies in a profitable way.

The main problem we identified in other online whiteboards is that there are too many ways to lose attention and it is not really easy to understand in a few steps how to create a digital mind map. There are a lot of buttons or options to set and choose and sometimes this causes a bit of confusion.

Moreover, if we have to share our screen with other participants and organize a video conference, other complications may occur. It's not always easy to set all the sessions, in particular for people who don't use specific tools everyday. But, above all: what kind of instrument would be better?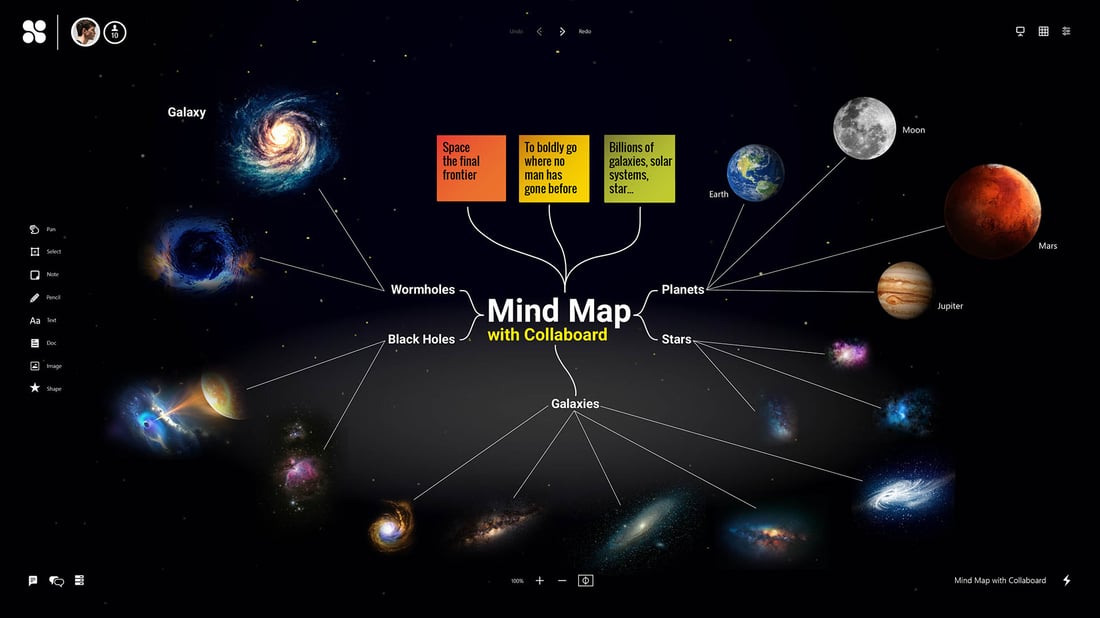 Collaboard, the solution that meet your need
To make work more practical and simply, we need a tool that can be touch and pen optimized. In this way, all the team would be able to work together on the same digital mind map.

Collaboard is the perfect solution, because it's the ideal online virtual workspace where you and your partners can work together on large touch screens by using digital pens. It makes you able to check all the chances to gain your goal, thanks to the mind map and the flowcharts you can create, from the simplest to the most complex. Structure your brainstorming session and capture ideas on your whiteboard.

You don't have to take screenshots of the whiteboard and send them via email to your team, with the chance to lose their attention; moreover you don't have to go crazy by writing all your thoughts and ideas on sticky notes that could be lost.
With Collaboard people can simply connect objects and create digital mind map with text, images, sticky notes and many other features! Videoconference and meetings will be more attractive and interactive.
You just have to focus on your projects and in every moment you and your colleagues could access the document, make changes and share the documents with new team members.

Collaboard is available on every type of device and makes you able to catch every stroke of genius and notate on your whiteboard.

Do you want to move into a new digital way of work and improve your team communication? Try Collaboard and bring remote collaboration to the next level.