This article answers all questions you need to know when you plan to get an interactive whiteboard. We provide you with an overview of use cases and scenarios on how to use an interactive whiteboard at the office or in the classroom.
What is an interactive whiteboard?
An interactive whiteboard is a monitor where you can interact with the content displayed on this monitor. Interaction is possible with touch gestures (fingers and hands) and with physical pens to annotate content.

There are various synonyms for interactive whiteboards like; touch display, interactive flat panel, digital whiteboard, interactive display, etc.
Why should you start using an interactive whiteboard?
An interactive whiteboard serves you various purposes. It allows you to use it for digital whiteboarding or as a blackboard replacement in the classroom. You can use it to present content, and it is a good replacement for beamers, dependent on the room size. In hybrid scenarios, the interactive display shows the virtual attendees of the meeting life-sized and supports the audio and videoconference.

In workshop scenarios, you can create digital sticky notes directly on one or multiple interactive displays and completely digitize all content you create during your session.

There is a multitude of use cases you can implement with an interactive whiteboard, and for almost any organization and industry, they help digitize work and implement a modern workplace strategy. Some use cases for interactive whiteboards are:
Creative activities like brainstorming and generating ideas
Hybrid Desing Thinking workshops
Interactive presentations
Stand-Up-meetings / Retro meetings (Agile working)
Hybrid meetings
Audio- and videoconferencing paired with whiteboard collaboration
Training
What are the main differences between the interactive whiteboards available on the market?
When you think about purchasing an interactive whiteboard, you want to make sure you get the best device for the best price for your organization.

As there are so many different brands and options available it is important to define which criteria are relevant to you. We summarized the main aspects in which the interactive flat panels differ:
Display quality and technology
At its core, the device is a monitor. When talking about monitors, there are several criteria for how they differ, and you need to consider what's important to you. For example, if you have a room with many windows where the sun shines in, you need a screen with high brightness. If you want to move the display between rooms, it should not be too heavy. Here is a list of hardware-specific factors that differentiate the touch displays on the market:
Screen Size (Standard Screen sizes are 55'', 65'', 75'', 85'')
Dimensions
Brightness (cd/m2)
Available ports to connect devices
Weight
Touch technology
The quality of the user experience when interacting with the display depends on the touch technology. The different technologies available differ mainly in how they recognize the touch gesture and how fast and precise this input can be processed.

An indicator for the quality of the touch is often the number of touch points a display recognizes simultaneously. Some technologies recognize your palm, which is a great advantage when you write with a pen on that display, as when you touch the display with your palm, you don't interact with the content while writing. Sometimes, you can use your flat hand to erase content that's pretty cool.

Touch technology has evolved a lot in the last few years, and good quality touch is already available for a low price. A fun fact is that the first touch screen was invented in the 60s, and nowadays, we all interact with our smartphones with touch gestures.

There are four main different types of touchscreen technology available:
Resistive Touch
Infrared Touch
Optical Imagining Touch
Projected Capacitive Touch
On this website from ViewSonic you find a great comparison of the different touch technologies: 4 Touch Panel Types - Explained - ViewSonic Library
Pen technology
Almost all interactive displays for conference rooms and classrooms support input with one or more pens. Being able to write with a pen on the content displayed on the monitor is what turns them into interactive whiteboards.
There is a big variety of pens available, and they are often proprietary and work only with a specific display. The more features a pen supports; the more code is necessary to make it work. Therefore, some pens need special drivers.
Some interactive screens can't make a difference between the input of a finger and of a pen, while others recognize pens with different colors and process the pressure and speed of the pen input.
There is a difference between an active and a passive pen. The passive pen (stylus) is not connected to the device itself and does not need power. An active pen (active stylus) contains internal electronics and has more features than a passive pen, like input buttons, memory, electronic erasers, etc. An active pen always needs a battery and power to work.
What pen do you need for your interactive display? Which pen is the best?
These questions are difficult to answer as there are good active and passive pen technologies available on the market. Here are some thoughts that will help you decide which technology will be the best for you:
Do you want a pen with a sophisticated experience and additional buttons to be faster when working with your interactive whiteboard?

Do you want a pen that you need to charge or replace the battery from time to time?

Is it ok for you to pair the pen from time to time with your device and update drivers if needed?

Do you want a pen that provides a natural writing experience and recognizes the pressure you put on?
If you answer all these questions with a "Yes" you should go for a solution with an active pen.
Please see here two good articles with more information about active and passive pens:
What is a Stylus? Types of Stylus & Stylus Pens Explained - National Pen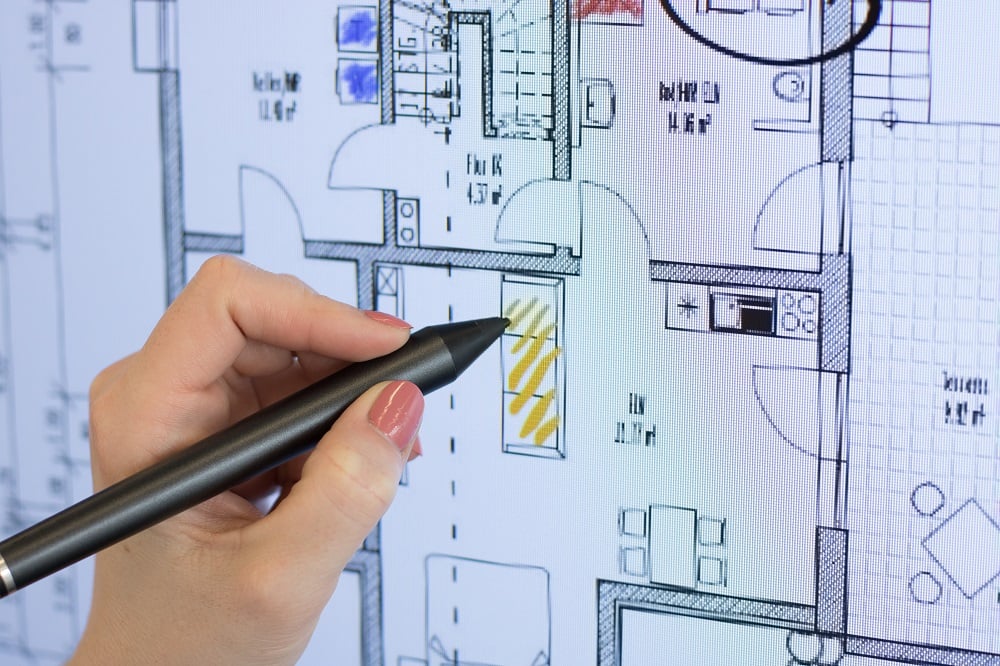 Embedded PC
When you purchase an interactive whiteboard, you need to be aware of the use cases you want to cover with it. Dependent on the use cases, you can decide if and what embedded PC is needed.
There is one main difference between embedded computers; the installed operating system. There are Windows and Android devices available.
Many display manufacturers customize a version of Android for their devices. Some even created their own app shops. The embedded Android computers are usually not very powerful and not thought of for high-end applications. We have tested devices where the built-in Android PC could not provide a 4K image on the screen, although the screens support this resolution.
In most cases, the Android PC is implemented in the device anyway, and you can't remove it easily. The question you must answer is if you need an additional, more powerful embedded windows PC for your device or if your people just connect their personal devices with the interactive display.
Most interactive flat panel displays have a slot for a so-called OPS computing module (OPS = Open Pluggable Specification). With an OPS, you can embed a Windows PC to your interactive whiteboard and decide for yourself what CPU, RAM, etc. the PC needs for your use cases.
This video shows you what the OPS modules usually look like and how to connect it to your device: OPS On Board Computer Overview - YouTube
Connection options
In many scenarios, the touch screen replaces the beamer. People need an option to connect their devices to the touch screen to show content they want to work with on their devices. Some connection options allow to use of the touch screen not just to display content but also to interact with the connected device (touch-back, ink-back).
If the touch screen has embedded video conference hardware like a camera, speakers, and microphones, some connection options make it possible to use them when starting or joining a video conference on your personal device.
In general, there are two ways how to connect your device with the big monitor; cable or wireless.
The wireless connection often uses the Miracast protocol. Some interactive whiteboard has Miracast embedded in the OS, while on others, additional apps need to be installed. On this website, you can find some Miracast alternatives: Best Miracast Alternative for Wireless Screen Mirroring? (benq.com)
For cable, the standard has been to use two cables, one for the video signal (HDMI) and one for the touch and other signals (USB-B). Since the rise of USB-C, several devices offer to connect just by a USB-C cable that allows transmitting audio, video, and touch and charges the laptop while connected to the large touchscreen.
With USB-C, some interactive whiteboards offer a one-cable-for-all solution that is very handy and simple to use.
You should always count the number of ports available to connect your devices to the interactive display and think what the ways will be how people work on content on the display.
Other embedded hardware (All-in-one systems)
Some interactive displays come along as all-in-one audio- and videoconferencing systems, while others are just monitors, and the user can decide himself what other hardware he might want to connect.
The big advantage of the all-in-one systems is that everything will work together properly, and you don't need to take care of the individual parts, like updating or re-connecting them in case they stop working.
Here is a short list of two all-in-one devices we tested ourselves and that provide excellent audio and video conference features combined with the interactive whiteboard.
Surface Hub 2S: Interactive Whiteboard for Remote Work | Microsoft Surface for Business
Why get a mobile stand for your interactive display?
An interactive display on a mobile stand is the most flexible solution. You can move the display from one room to another, and you can also combine multiple devices in the same room.
A mobile stand usually increases costs, as the stands are significantly more expensive than the wall mount option.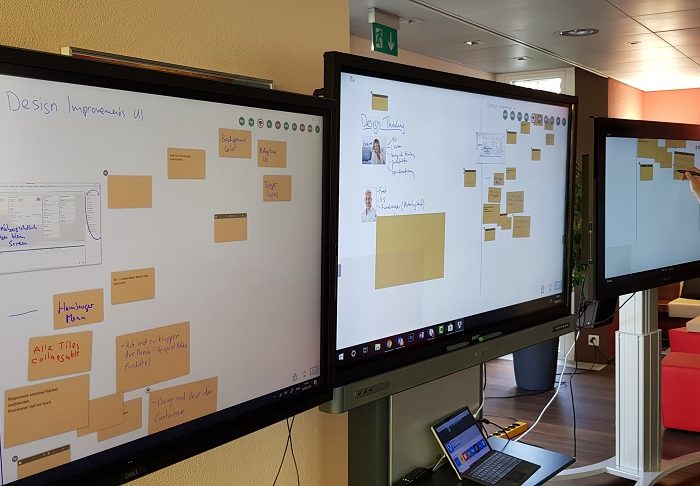 Which software to use on an interactive display?
Besides presenting interactive displays are meant to facilitate and digitize collaboration and whiteboarding.
With the rise of hybrid working, interactive displays are more relevant than ever. They allow onsite teams to connect and collaborate easily with remote attendees.
The key to making this collaboration successful is software. But what software is supported on the interactive displays? You will have access to different applications depending on whether you use the onboard Android PC or an OPS module.
Some interactive display manufacturers developed their own applications, which are often industry-specific. For example, there is a variety of software for education from K-12 up to the university level.
When you are using an OPS module you can access any software have on your PC via the interactive display. It is important to notice that most of the applications are designed to work with a mouse and keyboard and do not provide a very good user experience on a large touch monitor. Buttons are too small or too far away.
In many cases, there is no need to install software on the device itself, as the software is browser-based. This simplifies maintenance as the browser-based apps are always up-to-date, and users can work with the applications they are used to.
When discussing browser-based applications on an interactive display it is worth mentioning that not all pre-installed browsers provide the best experience. The main reason is that onboard browsers do not provide the performance needed to run web applications in the best way. As so many different browsers are available, you should test this beforehand to ensure your main applications work well.
If you are using an OPS module you won't have this problem, as you can install any browser you like.
Online Whiteboard Software for interactive displays
As one main purpose of the interactive display is to serve as a digital whiteboard, we recommend using digital whiteboard software.
Several touch screen manufacturers created specific whiteboard apps for their devices. These apps are often very simple and limited in functionality. For simple whiteboarding, these apps work well but don't support more complex scenarios like hybrid workshops, agile working, or project-based activities.
Collaboard is a browser-based online whiteboard software that goes beyond the simple whiteboarding experience and allows you to implement many different use cases.
Collaboard is optimized to work on a large interactive display, and provides an advanced drawing tool, and an elegant minimal interface that is self-explanatory. Learn more
What does an interactive display cost?
The cheapest interactive displays cost less than 2.000 EUR. The most expensive interactive displays cost more than 90.000 EUR (list price).
The truth of what an interactive display shall cost is somewhere in between. From our experience, an interactive display (55'') with a mobile stand shall cost not more than 10K EUR. Bigger displays like 85'' can cost up to 25K EUR.
As prices change a lot and depend on the number of devices you purchase and the discounts you get from the vendor, we don't list any prices here.
Which interactive display is the best?
The best interactive display is the one that fulfills your use cases, and your users are happy with it. As there are so many different aspects and decision criteria, it is difficult to state which is the best touch monitor.
We recommend you try different models with different touch technologies, so you get a feeling of what you like the best.
See here a list of all touchscreen manufacturers as a starting point for your evaluation:
Interactive Displays for Education and Business | Clear Touch (getcleartouch.com)
Clevertouch Technologies // Interactive Screens, smart screens whiteboards and displays - Clevertouch Technologies USA
ViewBoard Interactive Display | ViewSonic
Interactive Screens | Interactive Display Screens | Avocor
Everything for the safe digital school - Prowise
BenQ 65" All-In-One Collaboration Solution
Tap into Productivity with IdeaHub | Huawei Enterprise
Surface Hub 2S: Interactive Whiteboard for Remote Work | Microsoft Surface for Business
https://www.smarttech.com/en-gb/education
55" 4K UHD Flip 2 Interactive Whiteboard (WMR Series) | Smart Sigange | Samsung Display Solutions
Philips interactive touchscreen displays for work and school | PPDS
Meetboard® in Workplaces - AG Neovo Solutions
Dell 75 4K Interactive Touch Monitor - C7520QT | Dell USA
LG Touch Screen Displays: Interactive Screens | LG USA Business
Newline - Global Leader in Interactive Displays (newline-interactive.com)
Interactive Displays - Sharp NEC Display Solutions
Interactive, Touch Screen - Digital Displays | Panasonic
Promethean | Interactive Displays & Software for Education (prometheanworld.com)
Interactive Whiteboards | Global | Ricoh
https://www.speechi.net/en/home/interactives-touchscreens/speechitouch-65-and-speechitouch-70-interactive-screens/