How to Create a Mind Map on an Online Whiteboard?
In this article, we tell you about mind mapping. We highlight our most favourite types of mind maps and explain you how to use them on an online whiteboard.
After reading, you will know the basics of mind map creation and how to create mind maps in Collaboard.
Four reasons why you should use an online whiteboard for your next mind mapping:
Flexibility

: You can organise ideas simply by clicking and dragging

from wherever you are

.

No size limit

:

Y

ou are not limited to the size of your paper.

Co-creation

: U

sers working together

in real time

on one mind map.

Vis

ualization

: With the formatting tools you can create professional looking diagrams that you can quickly share and present

to your team members

.
What is
mind mapping?
What is
a mind map (diagram)
?
Mindmapping is an effective creative technique to capture thoughts and connections. This method is particularly suitable for problem analysis, planning and for gaining an overview of a topic.
The result is called a mind map. Mind maps are memorable and help you to order and relate knowledge and information. This gives you an overview of a topic and enables you to work on your topic in a visible and tangible way.
Where can mind mapping be used?
Mind maps are so universal and practical that you can use them in schools, business and science.
You can apply them for presentations, speeches, lectures and posters. There are no limits also regarding topics.
The graphic representation supports a lasting memory very well and give you an opportunity to learn and understand everything you want. There are some use cases for using the mind mapping:
Brainstorming
Mind mapping is one of the best methods for brainstorming and idea collection. Each keyword can evoke further associations.
These associations can be used to create large-scale mind maps. This way you can find a way to solve the problem or to find a new good idea.
Planning and organization
Mind maps are very helpful for planning and organizing. You can summarize all important areas clearly. In a task list you can add things later without having to cross out or insert a lot of brackets.
Structure factual texts
Many factual texts and books are complicated enough. Here too, mind maps can help you! In order to structure and better understand the confusing factual texts, you can clearly summarize and bundle all generic terms and important points of a topic, chapter or paragraph.
Protocol
Contents from online meetings, telephone conversations, presentations, surveys can be recorded, summarized and documented with a mind map with associations and keywords. Time sequences can be displayed in a clockwise direction, for example.
Preparation of presentations and speeches
Mind maps are also useful for planning and preparing lectures, presentations or speeches. Each subject area and sub-area can be captured with its cross connections.
Then you can flexibly address the keywords that are arranged around a topic area in your lecture. So you do not lose the red line and the main topic.
You can also use the mind maps diagrams, which arrange the keywords one below the other and then connect them with a line from top to bottom. To the right of the headings the subheadings are then collected.
Learning and Exam Preparation
Mind mapping is great for exam preparation and learning process.
If you work out a graphical representation of the learning material on an (online) whiteboard and later systematically repeat the learning material, it is stored in your brain quickly and effectively.
Mind maps can also help you learn foreign languages, foreign words and technical terms. Linking words and terms with pictures helps you to remember everything better.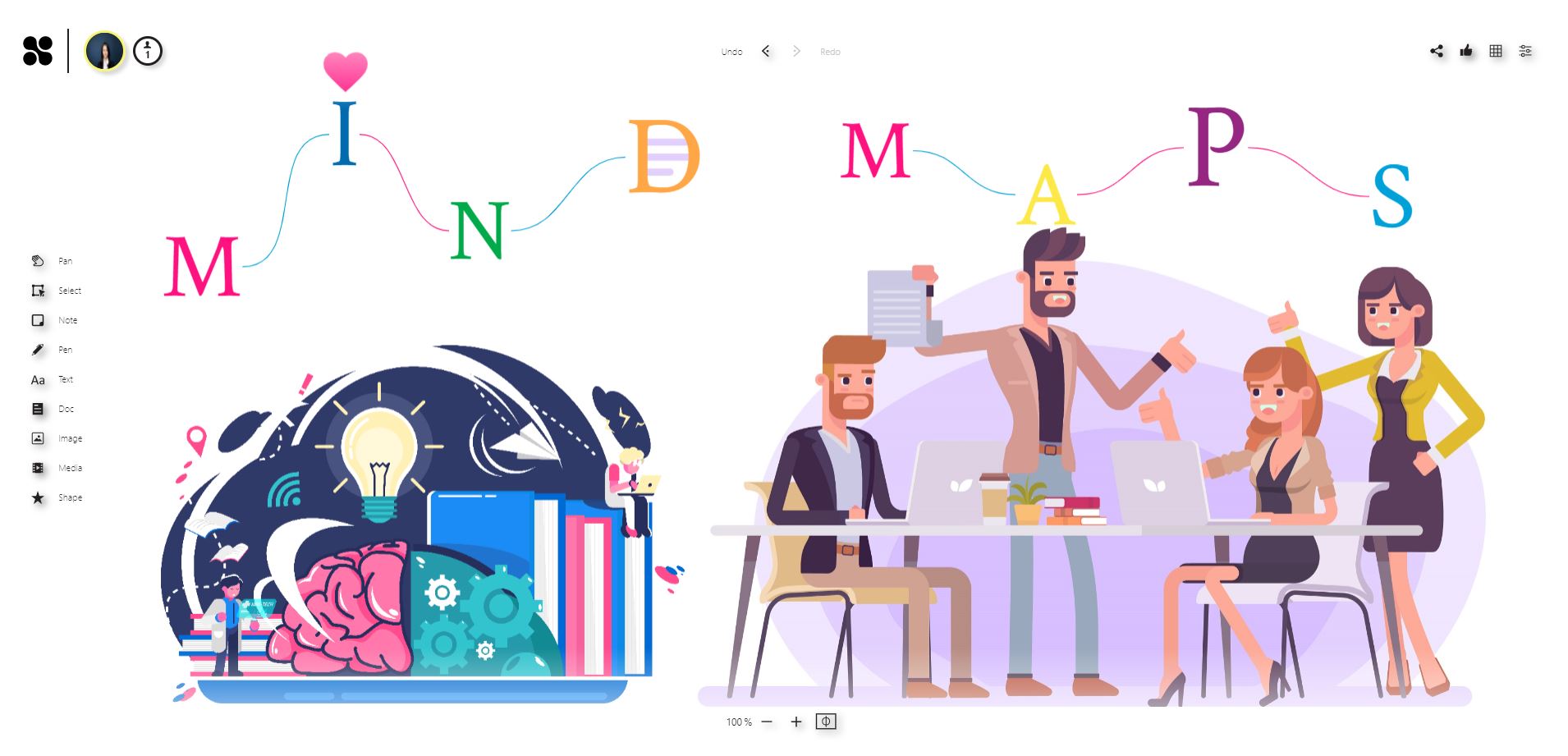 The rules to design mind maps
Mind mapping inventor Tony Buzan recommends the following basic rules for designing a mind map in his books:
Start

your mind map

in the middle of the

canvas.

Use a picture or sketch for the central starting point.

Use

so many

colours

you want for a better overview

(not less

than

2)

.

Connect the main branches to the central image and then branch off from them.

Make the branches curved, organic and flowing. The width of the branches should decrease towards the outside.

Use

only

one key term per line.

Use pictures, symbols throughout.

This will give your mind map additional liveliness and you will have more fun with it.

Develop your personal mind map style.

Use weighting and show associations.

You

can use

a star-shaped hierarchy, numbers and geometric boundaries.

In order not to limit your creativity and performance, we recommend using an

online whiteboard.
How to create different types of mind maps on the online whiteboard?
Collaboard helps you and your team plan projects, develop strategies, conduct a remote brainstorming session, learn together and much more.
We introduce you some types of mind maps you can use for your projects, online meetings and other cases using the online whiteboard.
Simple mind map
With a simple mind map you can visualize your ideas, specifications and other information. So, you get an impression of a big picture and overview.
This mind maps type is well suited for many applications, including exam preparation, business meetings and project brainstorming.
In the middle of your digital whiteboard formulate the central theme, word or other element as precisely as possible. This can be a text, a word and/or an image.
From this central theme lines go off like branches to related terms. On the second and third level, thoughts, words and ideas are connected by thinner branches.
For your inspiration or to complement your project, you can "stick" videos, pictures and other elements onto your digital canvas.
Concept map
With a concept map you can visualize terms and their connections in the form of a net. This is a good way to graphically represent information and organize thoughts and ideas.
The concept map is to be distinguished from the simple mind map, which only has a tree structure, and from the semantic network, which is of a formal nature and does not necessarily have a graphical representation.
To make this type of mind maps, you need to focus on an idea or question that you want to start with.
You can use a shape, images or sticky notes for your general topic or question you want to work on.
Then let it answer a specific question.
Brainstorm some topics and words related to the topic.
Then you can assign the topics and words to the concept by connecting them with lines.
The ideas, topics and words that are more important and more appropriate to the main concept should be placed closer to the centre of the online whiteboard. The ones that are not so important are moved towards the edge.
The graphical representation of processes and workflows helps you to quickly identify problems and errors and to eliminate them quickly.
With this type of mind maps you can visualize with various shapes and arrows.
Great Minds of Mind Mapping
Today we want to tell you about one of the great minds - Tony Buzan! He was a British speaker, author and trainer on education, learning and creativity.
Tony Buzan became particularly well known for coining the term Mind Map and spreading this method. He developed it from the 1960s onwards and pursued further education programs for mind mapping and speed reading as well as memory training, with his company "Buzan World" (today "ThinkBuzan").
Buzan initiated numerous competitions for cognitive performance. In 1984 he founded the "World Speed Reading Championships" as an international championship for speed reading, to whose methodological development he had contributed with his work on mind maps.
Source:
Tony Buzar: Mind Maps For Business. 2010.
Tony Buzan, Barry Buzan: Das Mind-Map-Buch. Die beste Methode zur Steigerung Ihres geistigen Potentials. Moderne Verlagsgesellschaft, München 2002, ISBN 3-478-71731-0.
https://de.wikipedia.org/wiki/Mindmap