How to make a brainstorming session more effective with an online whiteboard?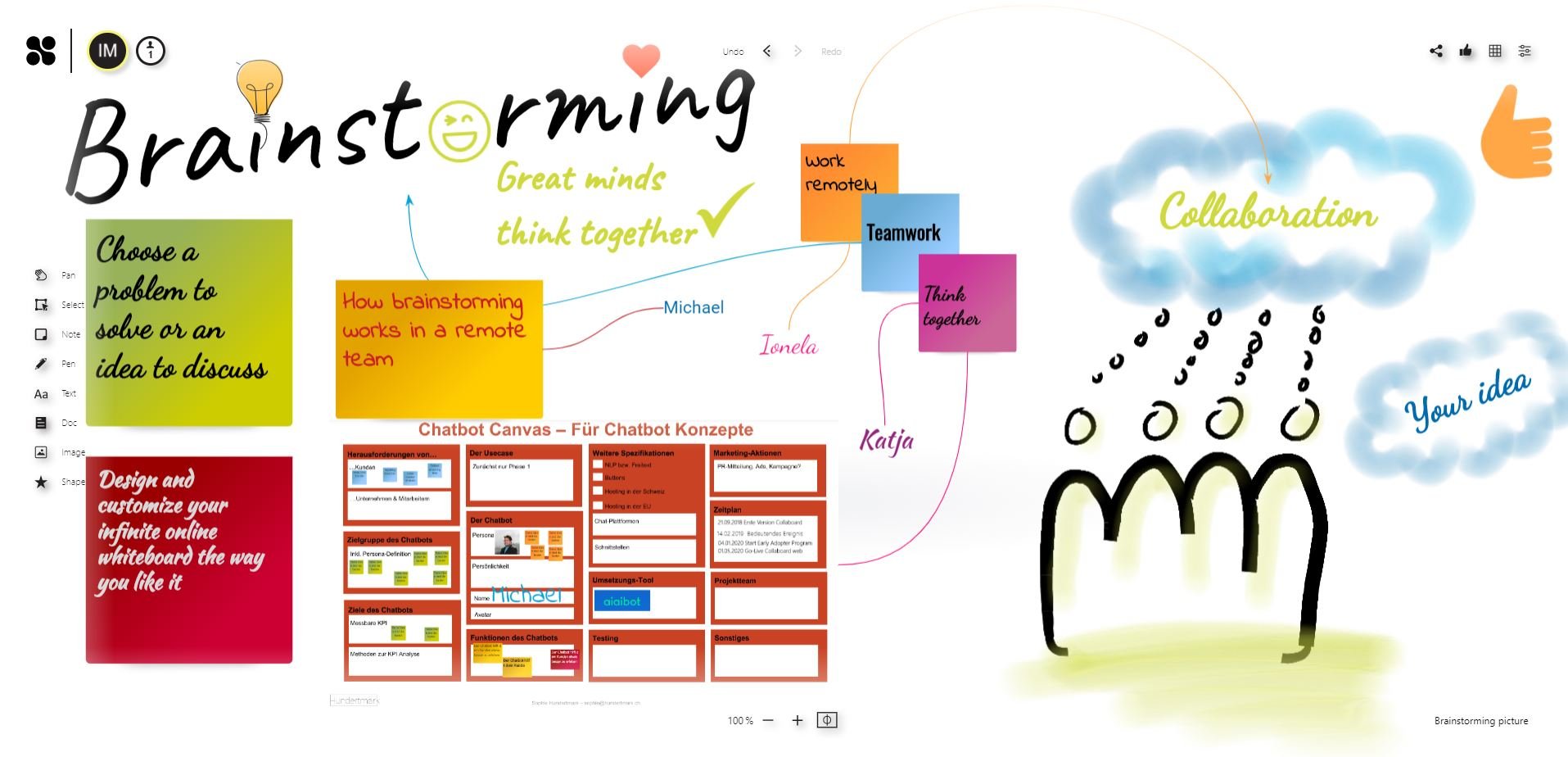 In this article we write about brainstorming, highlight the most important techniques and show you how to use an online whiteboard for brainstorming sessions.
After reading you will know how to create successful remote brainstorming meetings with your team.
Before we start, see here three reasons why you should use an online whiteboard for your next brainstorming session:
A remote team creates ideas in real-time from everywhere and every device and add them to the whiteboard.
Online whiteboard foster creative working in remote meetings.
All ideas are immediately digital, so you never will loose them again.


What is brainstorming?
Brainstorming is a method of finding ideas and sorting and evaluating them in a group according to specific rules.
Brainstorming is an instrument that many organisations apply to generate as many ideas as possible within a team. The emphasis is only on the quantity of the presented ideas and not so much on the quality. Each participant should openly express his ideas on a topic.
In the last months, we have seen that brainstorming on-site is very difficult to achieve because all of us were working from home.
During audio- and video conferences, it is difficult to generate ideas with a team unless there is a digital whiteboard on which all of the people can add sticky notes and write down their thoughts.
What are brainstorming techniques?
There are many different brainstorming techniques. Depended on the goals you want to achieve one method is better than another.
When it comes to remote brainstorming on an online whiteboard, we have seen that the following techniques fit this scenario very well.
Sticky notes
It is one of the most effective methods of brainstorming. Ideas are pinned to the digital whiteboard and worked out with the help of cards and pins.
Various questions, tasks and goals are combined, and everyone pins an idea or answer to it on the digital whiteboard by using sticky notes. In this way, ideas are quickly collected, and the team works out further details when they see new ideas through others.
The question technique
Use specific questions to lead the idea generation. Ask "Who, What, Why, When, Where, Why? For example: "Why does someone have problem X", "Who could need product Y?", "Where can technology Z be used?
This questioning technique is especially helpful when brainstorming for a concreate goal.
The reverse technique
Here one deliberately plays the opposite. The question here is not "Who could need product Y and why?" but the opposite question "Who can NOT need product Y and why?
In doing so, one can also clarify important questions such as how it should not be, for example, to make it more efficient.
The subjunctive method
Set no limits for yourself and consciously think "out-of-the-box". The method attempts to ask questions such as "What would have to happen for ..." or "Under what circumstances would XYZ work?
The subjunctive method helps to make your thoughts freer and you might find ways to make the impossible possible. You have no limits on the online whiteboard - your canvas is infinite.
Brainwriting
The aim of the brainstorming technique "Brainwriting" is to separate the creation of ideas from the immediate discussion and criticism.
The facilitator communicates the topic or problem to the team, and the team members individually note down their ideas. Then the team comes together again, and the members exchange their ideas in the group to discuss them.
This type of brainstorming avoids anchor effects, i.e. it does not result in most ideas being put forward by just a few people. By openly inviting everyone to contribute ideas, a 360-degree view of all ideas and perspectives is generated.
On the online whiteboard, all team members work together and see in real-time who added which idea or each person starts on his private board and copies his ideas into the public board.
This technique is also great for introverted team members as it allows them to think through their ideas before sharing them with others.
Brainwriting is particularly useful for remote teams that tend to rush to the first idea that is presented, or who have problems with one or two noisy members who are continually monopolizing the conversation.
Business model canvas
The Business Model Canvas is especially recommended for developing ideas and aspects of a business plan. Key elements for a successful business are considered.
Alexander Osterwalder has developed this model, and it has become one of the most successful models to build innovative business ideas or to rethink an existing business model.
The main elements are as follows:
Key partners: Which partners to consider?
Key activities: What are the actions needed to implement the business model?
Value proposition: What benefits and advantages do customers have when they buy the products and services?
Customer relationships: How can target customers be acquired and retained?
Customer types: What are the target customers and target customer groups?
Key resources: Which resources are needed, and which are indispensable?
Sales and communication channels: Which channels to use to communicate with the desired target customers? How are the products and services sold?
Costs: What are the most critical cost drivers and without which costs would the business model not work?
Sources of income: How is money generated? Where does the money come from in the business model?
The template from Collaboard helps you to work out the business model online.
Why brainstorming is useful for decision making
All problem-solving and creativity techniques have one thing in common: you want to find alternative solutions to a specific problem.
This is exactly what you do through brainstorming. If you brainstorm in a large group, many different people are involved in solving the problem. This increases the probability of finding a solution dramatically.
Effectiveness should initially play a subordinate role to create a pressure-free and creative atmosphere, also in remote teams on the online whiteboard. The most important cornerstone of brainstorming and any problem-solving technique is creativity.
Be creative, stay connected on the remote working software, on your online whiteboard and share your ideas with other great minds. Express the best part of yourself and find the right solution.
Brainstorming rules
There are four basic for a successful brainstorming session. Even if the team is working remotely it is very important to follow the rules. We briefly present these rules of the brainstorming:
No criticism
Any idea - no matter how crazy - is welcome at first. No evaluation takes place during the process. Discussion, killing arguments and criticism are strictly prohibited. This includes verbal and non-verbal criticism equally.
No copyright
As just mentioned, the further development of different ideas is not only desirable but also an important aspect of brainstorming. There is no copyright protection or something like my idea. Brainstorming aims to find the best solution to a problem as a team - in the end, everyone worked on it together.
Focus on quantity
In the beginning, what counts is the mere number of ideas. The more, the better. Quantity before quality.
Lateral thinking
Free association, but also straying, spinning and fantasising is also expressly desired during the storm of thoughts. Let your thoughts wander, think outside the classic drawers and unconventionally approach a problem.
How to do a brainstorming session with

the

online whiteboard

Collaboard
All you have to do is register on the web-based application and you can immediately use the online whiteboard.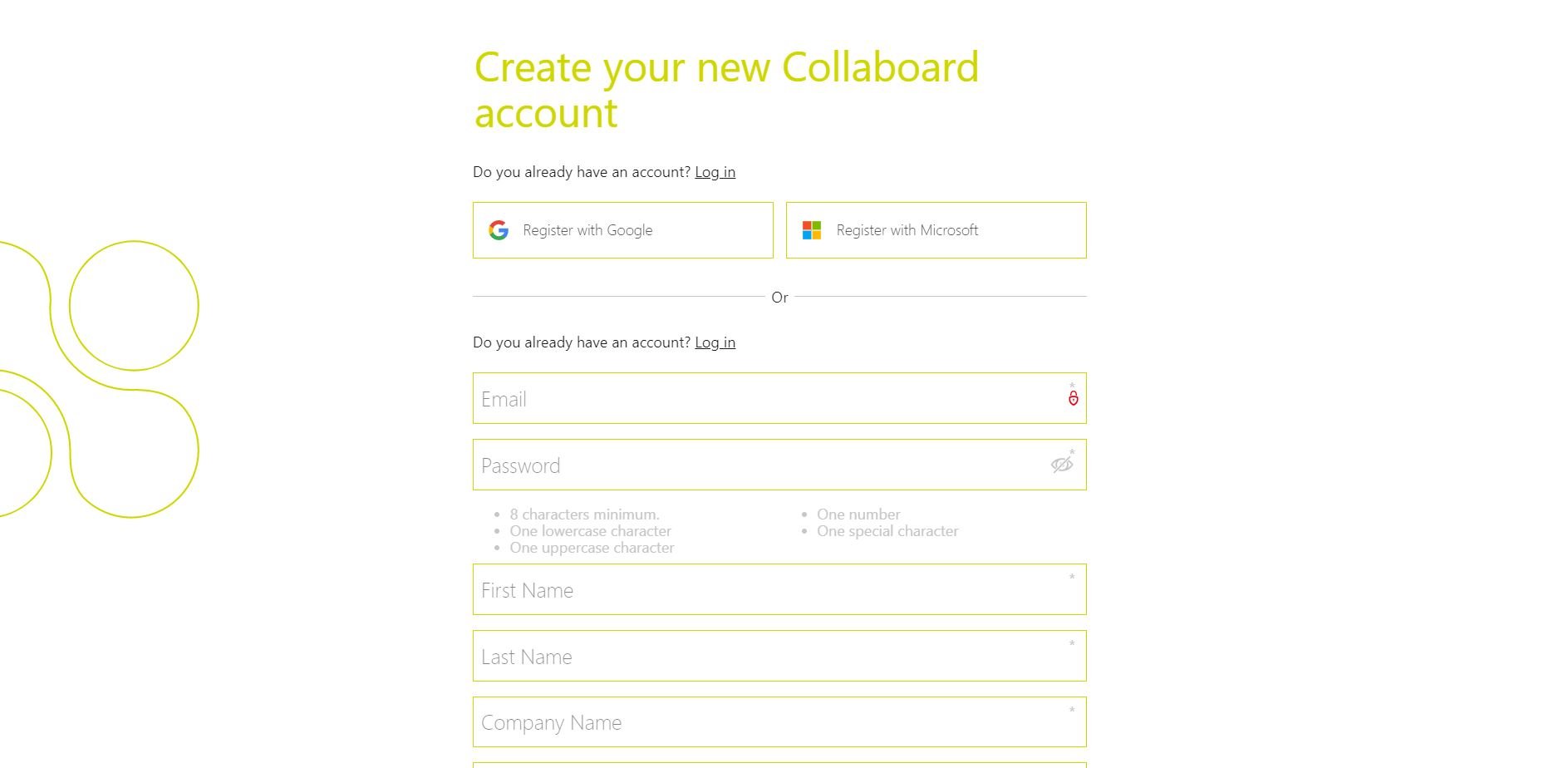 Choose a problem to solve or

an i

dea to discuss

Choose a

Brainstorming technique

Decide who should attend the session, invite them to the brainstorming session.



Design and customize your infinite online whiteboard the way you like it
Use a template, use only sticky notes or other tools to design your desktop.
Let's get started und get your brainstorming done!
How to identify the best idea after a brainstorming session
Idea generation is a useful tool in the innovation process to explore new products, services, business models or other improvements.
A brainstorming session always consists of two main phases:
Find an idea
The first part is the actual brainstorming, the exchange of ideas. Over a fixed period, collect ideas from all participants. Either together or by a moderator, gather all contributions on one single whiteboard in the end.
Evaluate an idea
Turn the pool of (hopefully) numerous ideas into a list. For this purpose, the collected proposals are analysed, filtered, evaluated and sorted. Brainstorming aims to end up with a list or a cluster of the most promising ideas, solutions and suggestions.
The voting function of the online whiteboard can help to identify the idea your team likes the most.
How to make brainstorming (more) effective with people working from home?
Use an online whiteboard!
If you are used to using a whiteboard, there is no reason to give it up right now. Instead of that, you can use an online whiteboard. It gives you the benefits of visual thinking and collaboration without having to be in the same room as your teammates.
There are special templates for brainstorming, and you create your ideas on digital sticky notes and cards. Using an online whiteboard also gives you advanced possibilities, like searching for images in the web or even add files. One central element of an online whiteboard is that everything people do is shared in real-time.
Use icebreaker exercises
Icebreakers warm up your team and "breaking the ice" - there is often talk of a "warmup".
Icebreakers reduce inhibitions within the group and strengthen trust between the players. This allows the team members to generate more and better ideas even though they are in the home office.
Play games
Workshop games loosen up the brainstorming session. Games bring participants into a good condition, promote the atmosphere in the group through laughter, fun and shared experiences.
Play music
Play inspirational music during the brainstorming session.
Great minds of brainstorming
The American Alex F. Osborn is considered the inventor of brainstorming. In 1919 he founded an advertising agency in New York. From this small agency emerged the now globally active company BBDO.
A few years later, Osborn was annoyed by the unsuccessful and unimaginative meetings with his employees. He developed a procedure that was to give creative ideas for problem solving more room. He described it with the words "using the brain to storm a problem".
Basic rules such as "no criticism" and "every contribution is welcome" were laid down by Osborn even then. He was allegedly inspired by a technique called "Prai Barshana" which has been used in Hinduism for hundreds of years.
Source:
Nöllke Matthias: Kreativitätstechniken, München, 2004
Mulder, P. (2017). Brainstorming. Retrieved 35.08.2020 from ToolsHero: https://www.toolshero.com/creativity/brainstorming/
https://www.wework.com/ideas/worklife/effective-brainstorming-techniques